To Rebuild Culture one man's worth at a time beginning with our own.
Wholeness.
To help men design a generous life of meaning and contribution.
To train men to expand their mindset and teach them to cultivate life long skills.
To help men systematically integrate every part of their life, every part of them matters.
That men will become a light in the darkened heart of humanity.
That men will design beautiful life that brings peace, joy and freedom.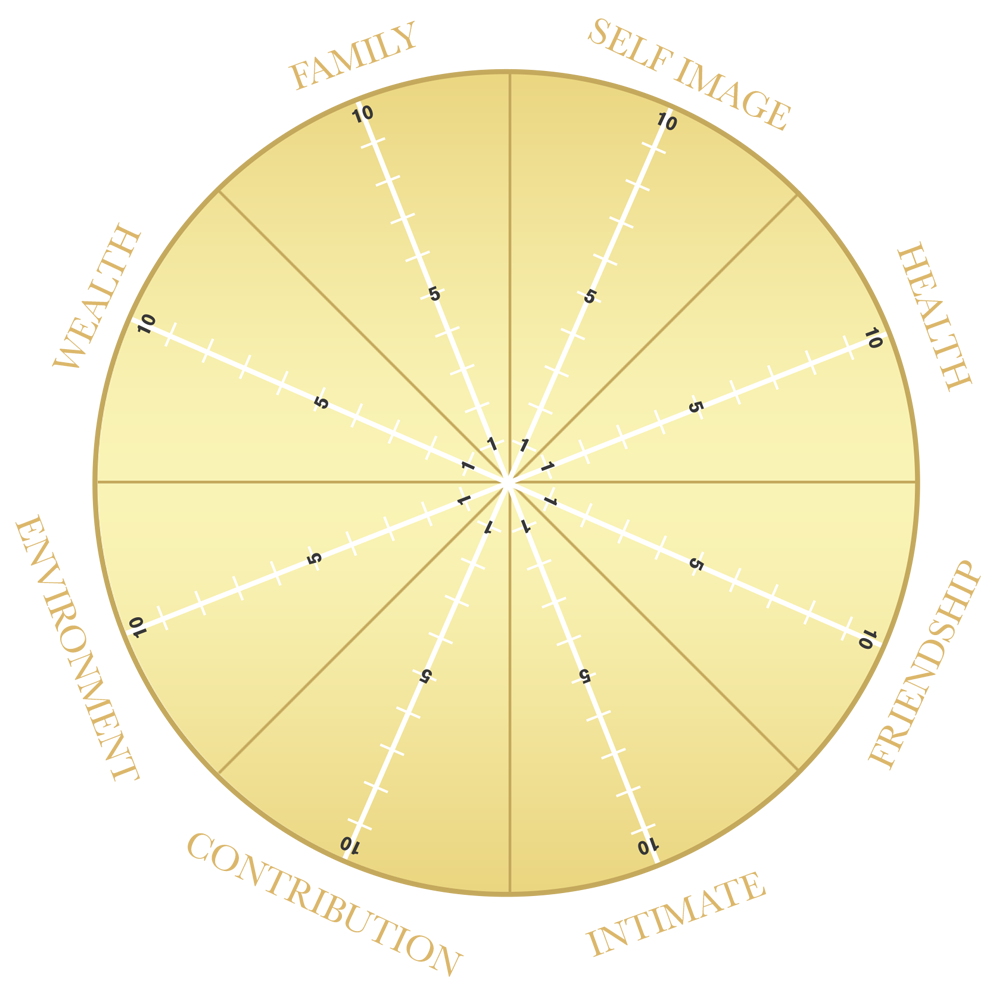 Take a 5 minute legacy quiz and discover where you are in the journey to fulfillment.
LEARN MORE ABOUT THE FOUNDATIONAL PROGRAM
AT THE MAN SCHOOL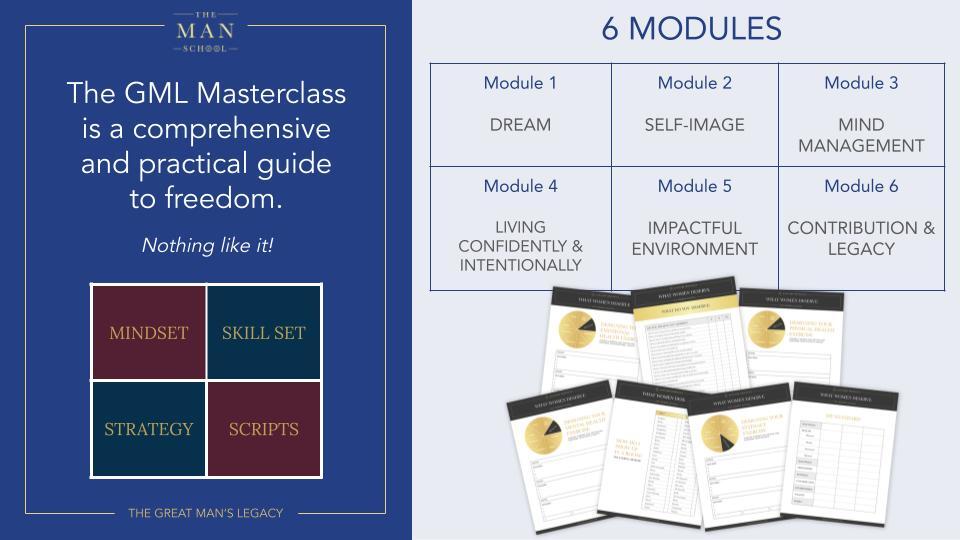 Watch our Great Man's Legacy Introduction Webinar Replay!
This free webinar is for men who want to take their life to the next level; equip yourself with strategies that will supercharge your results! If you refuse to settle for mediocrity, are committed to living your personal dream life and to leaving an outstanding legacy, this webinar is for you.

Learn how to live life by design, NOT default!
STEP 3: BUSINESS OPPORTUNITIES
Interested in learning more about our Wholeness Coaching School, setup a meeting with our team.
WHY IS THE MAN SCHOOL IMPORTANT TODAY?
The world shifted, men need new tools for a new kind of world.
Empowerment without equipment is unsustainable. We focus on giving men skills.
Develop confidence and competence from the inside out.
Crystalize your dreams and create a practical plan to achieve your goals.
Find meaningful work that makes you feel alive.
Honor your body and learn to fuel it for optimal contribution.
Attain unshakable peace from within, free from stress, anxiety and exhaustion.
Be resilient against critics, communicate your boundaries effectively and hold people accountable.
Find friendships that encourage you to pursue your dreams and walk with you in your failures.
Design an inspiring relationship where you are free to grow into your best self.
YOUR DUTY IS TO DESIGN A LIFE THAT INSPIRES THE WORLD TO BE BETTER.
YOU HAVE A CHOICE TO MAKE THAT DECISION.
WE WILL SHOW YOU HOW.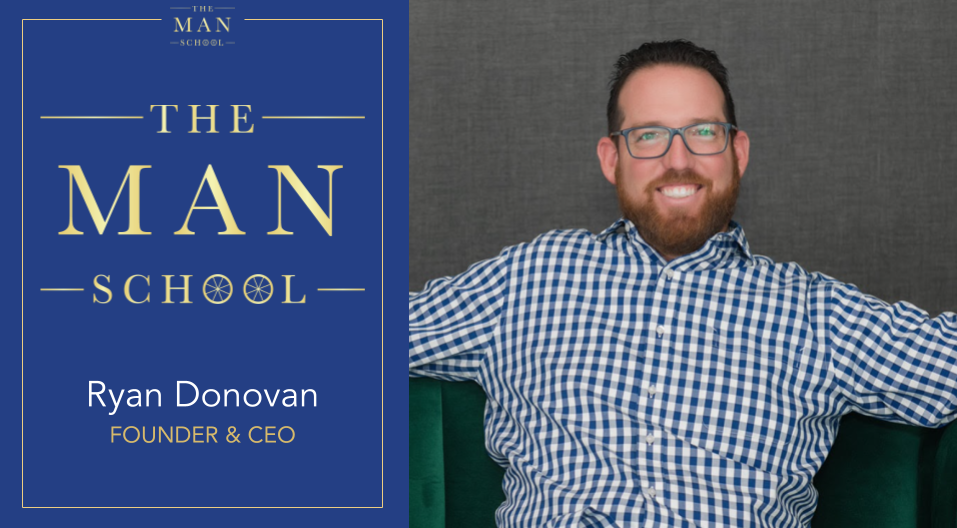 BEST SELLING AUTHOR, SPEAKER AND NATIONAL MINDSET TRAINER
Ryan started his career as an entrepreneur becoming top golf teaching professional. Next, he successfully operated a Multi-Million dollar Real Estate Sales Team that has sold well over $150 million. In January 2019, he retired from real estate having successfully "7th leveled" his Donovan Home Team. He successfully moved from his "life's work" by retiring at the age of 40 from Real Estate.
He is currently the President and CEO of TheWomanSchool.org & GreatnessJourney.com, helping individuals and businesses create massive success both personally and professionally. Ryan is on a mission to help others "wake up" and live a life of purpose and meaning.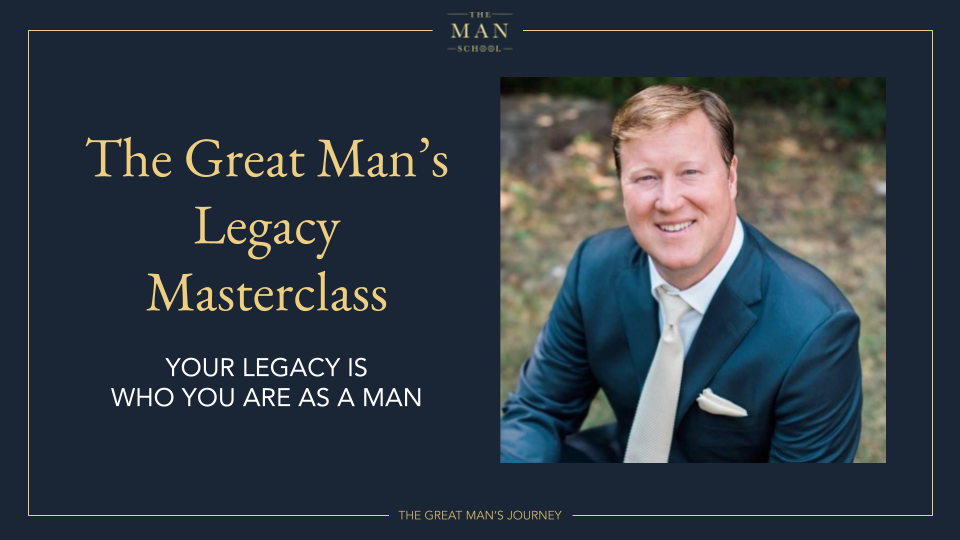 The Man School Master Instructor, Strategist, & International Speaker
After growing up in Southern California, playing college football and tasting startup success, as well as previously putting in 60 to 70 - hour weeks at Cisco Systems and other tech giants, Bill found himself cynical and unfulfilled. Dissatisfied with the rat-race lifestyle of Silicon Valley, he began to ask the questions: How did God create us to live in the beginning? Is there more to life than just increasing its speed and spinning our wheels? Why are so many people frustrated, unhappy and unfulfilled? What is the real and deepest purpose of life?

His search for answers led him deep into the study of Spiritual, Mental, Emotional, Physical and Financial wisdom. As a voracious reader and lifelong learner, He literally devoured hundreds of books and attended dozens of seminars and workshops in these areas, and in the general category of Personal Development and Human formation. He had the opportunity to work with and learn under some of the world's leading experts in these areas. This journey has culminated in his discovery of his true life's calling of helping & equipping people to discover and live their life's mission, purpose and passion.

Collaborating with Ryan & January Donovan, Bill helped to launch The Man School and serve as it's Master Instructor & Strategist for the foundational Great Man's Legacy Masterclass. He is passionate about helping humanity to discover their unique God-given gifts, vocation and rediscovering the peace and fulfillment that come from living our passion, and unique contribution. Married in August of 2018, Bill and his wife Angela and have since left behind city lives driven by busy-ness and frenetic activity and have settled into an orchard garden homestead on Flathead Lake (near Glacier National Park) in Montana to experience a more peaceful, healthy, purpose-driven and sustainable life. When not out on Flathead Lake or in his garden, Bill loves to hunt & fish the wilds of Montana and is a passionate sports enthusiast & traveler.